20% OFF! Peachy Green All-in-one Nappies
REDUCED TO CLEAR WITH 20% OFF!! PRICE SHOWN INCLUDES DISCOUNT!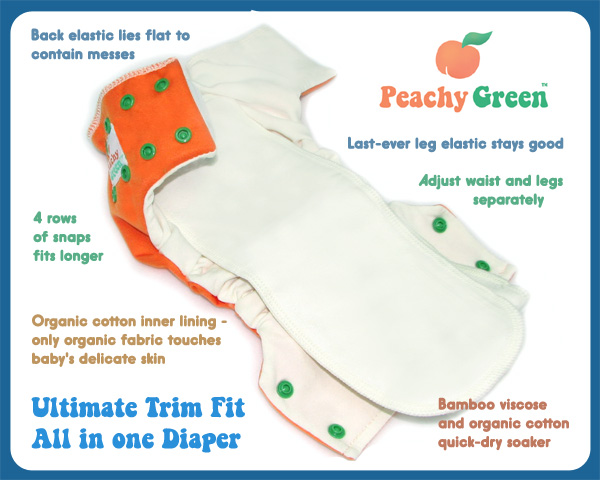 An amazingly trim nappy that stretches to fit a wide range of babies.
Peachy Green all-in-ones have an all natural fabric against baby's skin, rather than snaps, and have no polyester lining.
The soaker is a blend of bamboo viscose and organic cotton fleece, a great fabric which absorbs a lot, fast. Plus it is Oeko-Tex Standard 100 certified free of any known harmful substances - the strictest standard for infant products.
Easy to snap on and off, no folding or stuffing.
The side snaps make for a smooth belly and gentle elastic works for chubby or lean thighs. The elastic is so durable that Peachy Green call it Last-Ever. You'll be using this nappy for a while, so with 4 rows of adjustment snaps it fits for a long time.
Washing is a breeze: the soaker's quick dry layers separate in the wash. Snap out soaker if extra cleaning is required, or leave it attached, either way is okay. Machine wash hot or warm, tumble dry on low heat or line dry - the nappy will stay soft!
Prewashing: wash and dry once, absorbency will increase over the first 6-8 washings and beyond.
Extra absorbency can be added, if required, by using a Peachy Green hemp booster (sold separately).

from £14.20

* REDUCED TO CLEAR WITH 20% OFF!! PRICE SHOWN INCLUDES DISCOUNT
Peachy Green Solo Luxe All-in-one Nappy
Limited Edition Print: Paris
Available in Sizes:
0 (7-16lbs)
1 (12-28lbs)
2 (24-35lbs)

from £14.20

* REDUCED TO CLEAR WITH 20% OFF!! PRICE SHOWN INCLUDES DISCOUNT
Peachy Green Solo Luxe All-in-one Nappy
Limited Edition Print: Holly Jolly
Available in Sizes:
0 (7-16lbs)
2 (24-35lbs)
Onesize (10-35lbs)

from £14.17

* REDUCED TO CLEAR WITH 20% OFF!! PRICE SHOWN INCLUDES DISCOUNT
Peachy Green Solo Luxe All-in-one Nappy
Limited Edition Print: Lucy
Available in Sizes:
0 (7-16lbs)
1 (12-28lbs)
2 (24-35lbs)
Onesize (10-35lbs)

from £14.17

* REDUCED TO CLEAR WITH 20% OFF!! PRICE SHOWN INCLUDES DISCOUNT
Peachy Green Solo Luxe All-in-one Nappy
Colour: Sugar Rush
Available in Sizes:

from £14.17

* REDUCED TO CLEAR WITH 20% OFF!! PRICE SHOWN INCLUDES DISCOUNT
Peachy Green Solo Luxe All-in-one Nappy
Limited Edition Print: Rainbow Zig Zag
Available in Sizes:

from £14.17

* REDUCED TO CLEAR WITH 20% OFF!! PRICE SHOWN INCLUDES DISCOUNT
Peachy Green Solo Luxe All-in-one Nappy
Limited Edition Print: Marble
Available in Sizes: