gPant: Good Life
Price: £17.95 In stock
gNappies are colourful nappy covers called gPants which can be used with either a reusable or disposable insert.
Each pair of gPants comes with a snap-in waterproof pouch (inserts are sold separately).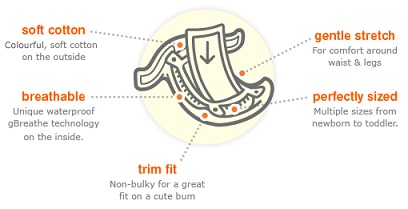 Reusable inserts (gCloth) have 2 layers of microfleece, 2 layers of hemp/cotton and fit perfectly inside gPant pouches with no need for folding.
gNappies disposable inserts are also available and sold in 2 sizes for a perfect fit inside the gPant pouch.
Size Guide:
Small: approx 8-14lbs (3-7kg)
Medium: approx 13-28lbs (5-13kg)
Large: approx 26-36lbs (11-16kg)
Extra Large: approx 33lbs+ (15kg+)