NEW! Kangacare Lil Learnerz Training Pants: Frozen
Price: £26.50 In stock
Kangacare Lil Learnerz training pants have a waterproof outer and IMWET TECHNOLOGY™ inner, to let your toddler feel wet and help with potty training.
They have an absorbent microfibre inner which can easily hold a heavy accident, plus a soft hypoallergenic top layer which rests against the skin.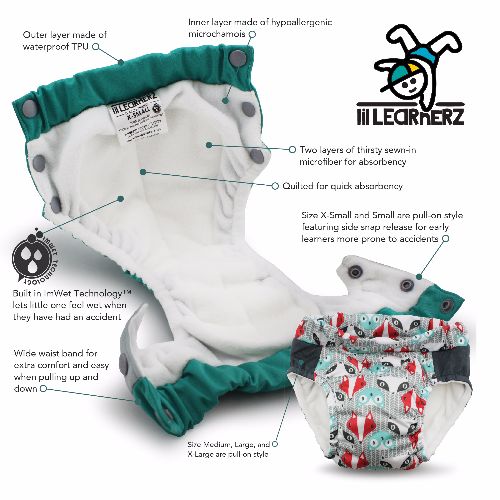 Lil Learnerz are easy to pull up and down, just like real underwear! Available at Kingdom of Fluff in 3 sizes: Medium, Large and Extra Large.
* With these pants we would advise to go by measurements rather than weight range, as child's size can vary a lot.
| | | | | |
| --- | --- | --- | --- | --- |
| | Style | Approx weight | Waist (approx.) | Thigh (approx.) |
| Xsmall | Side snap | 15-25lbs | 40-46cm | 24-32cm |
| Small | Side snap | 25-35lbs | 42-52cm | 24-32cm |
| Medium | Pull-on | 35-45lbs | 42-52cm | 28-38cm |
| Large | Pull-on | 45-55lbs | 44-56cm | 28-42cm |
| XLarge | Pull-on | 55-65lbs+ | 46-60cm | 32-46cm |
* First measurement is taken at rest, second measurement at full stretch